Quality control and Manufacturing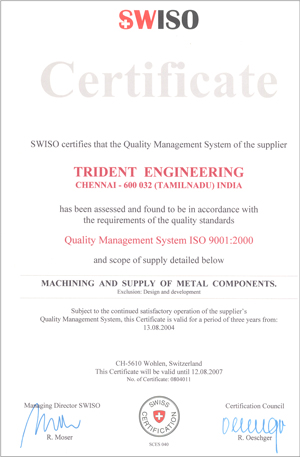 Our QC Software & Component testing features are Stringent Conforming to ISO 9001-2000 Standards Uncompromising and reflecting outright any Process/Material even in case of a very minor error. The Equipment's/ tools are the latest and state of the Arts Sourced Principally from USA, Japan, Germany from globally renowned Names Conforming to Six Sigma Standards.
Our Manufacturing Lines are also from Japan & Germany with Nano Controls and Spindle Speeds upto 8000 rpm rapid Feed rates upto 50m/min. We can Handle Components from 25mm to 2000 mm in sizeof both Ferrous & Non Ferrous Tools, Dies & Moulds in both Volumes and Batch Components. We operate on 1 month-advance delivery.
Systems with latest automation Capabilities, extracting Manufacturing Information such as features, material volume and inside/outside references from Solid Models and Toolpath can be saved with one part File in the Model ar same .
We are Proficient in Latest CNC Systems such as Fanuc, Siemens, Heidenhain, Mitsubishi, YASNAC, Acromatic etc.